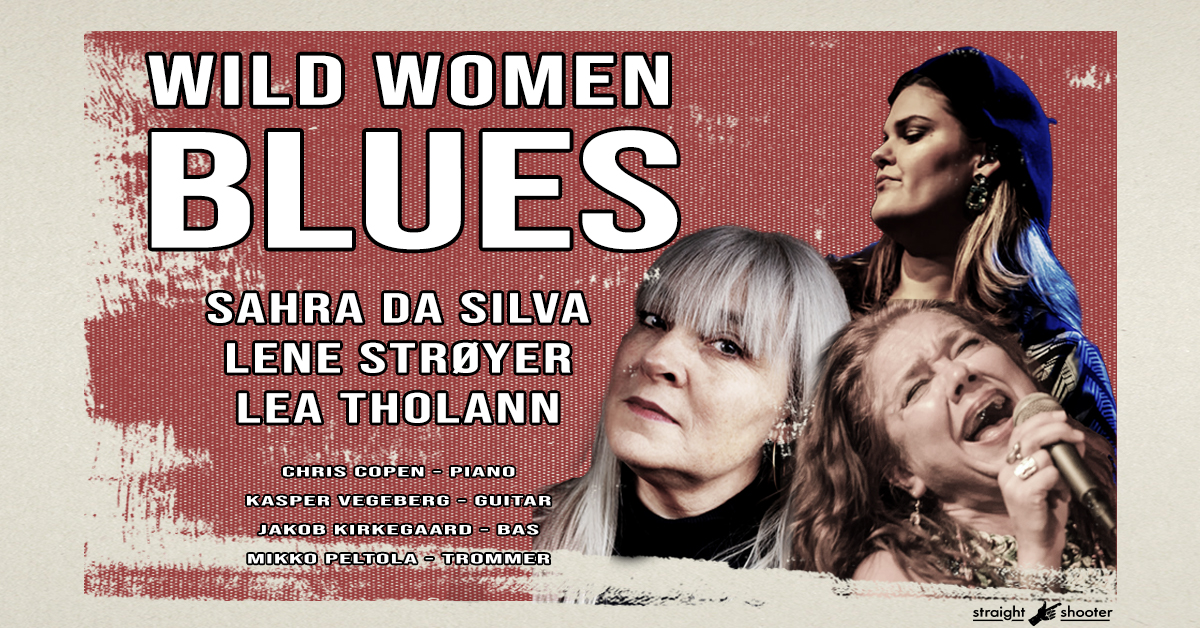 Wild Woman Blues

| | |
| --- | --- |
| | Sahra Da Silva |
| | June 11, 2021 |
| | Vejle |
| | Crossroads |
FACEBOOK EVENT: https://www.facebook.com/events/160657688902628?ref=newsfeed
Koncerten med "Wild Women Blues" afholdes fredag 11. juni 2021 kl. 20 i Bygningens "Store Sal" med plads til 100 publikummer!
-•-•-•-•-•-•-•-•-•-•-•-•-•-•-•-
WILD WOMEN BLUES • Fredag 11. juni 2021 • Koncertstart kl. 20.00 • Døren åbnes kl. 19.15
Sluttidspunkt er estimeret og kan variere fra det angivne!
 Billetsalg.dk er åbnet
WILD WOMEN BLUES:
SAHRA DA SILVA
LENE STRØYER
LEA THORLANN
– på samme scene!
Det bliver et brag af en koncert når de 3 fantastiske sangerinder går på scenen sammen med et lige så fantastisk band
Hver af de 3 sangerinder har deres eget kraftfulde udtryk, karisma og ikke mindst et solidt bagkatalog.
De er set på den danske musikscene utallige gange i mange forskellige sammenhænge og har også medvirket på en lang række studieoptagelser i tidens løb.
Denne aften vil de hver for sig – og sammen – synge powerfulde blues numre og målet er at "vælte" Bygningen i Vejle!
LENE STRØYER
fik prisen som "ÅRETS DANSKE BLUES NAVN 2010" for
"sin betydelige indsats som musiker og komponist. […] og for at favne et bredt spektrum af R&B, soul og blues, samt at formidle bluesmusikkens mange farver med talent, elegance og sjæl."
SAHRA DA SILVA
har i fjor udgivet sit første bluesalbum, 
#blueswoman
, og er pt. Danmarks nok mest omtalte blues- og soul-sangerinde.
LEA THORLANN
synger med stor autoritet og intensitet og har udgivet original soulmusik i eget navn, er en tredjedel af Blue Belles of Joy, har turneret med "Waiting for Janis" (Janis Joplin cover band) samt bluesbandet "Ladies Sing The Blues", sunget kor for Gud og hver mand på den danske rhythm'n'blues scene.
WILD WOMEN BLUES er:
Sahra da Silva: sang
Lene Strøyer: sang
Lea Thorlann: sang
Chris Copen: Piano
Kasper "Lefty" Vegeberg: Guitar
Jakob Kirkegaard Kortbæk: Bas
Mikko Peltola: Trommer
PRIS I FORSALG
Entré: kr. 225,-
Medlemspris: kr. 165,-
Forsalget lukker 2 timer inden koncertstart!
– Evt. ledige billetter sælges ved indgangen!
PRIS VED INDGANGEN
Entré: kr. 250,-
Medlemspris: kr. 190,-
Forbehold for ændringer / Subject to change! / Änderungen vorbehalten