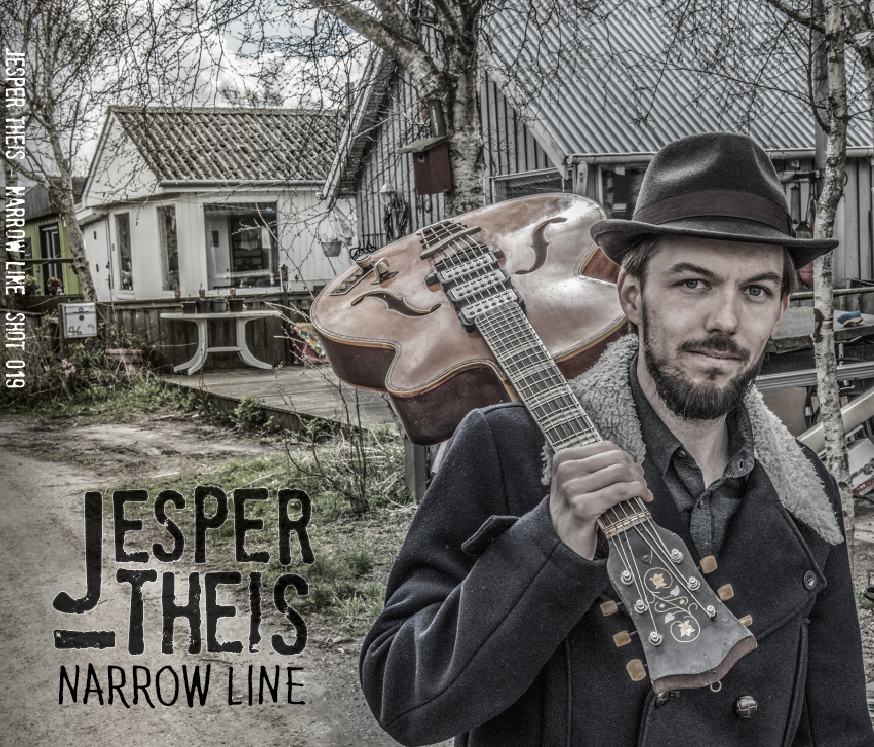 Narrow Line
Jesper Theis
Narrow Line
Straight Shooter – SHOT 019
Narrow Line (Straight Shooter SHOT 19) offers a diverse mix of tracks inspired by pre-WWII acoustic country blues and gospel, as well as material that would be right at home in the 1960s U.S. folk boom. You will also hear jazz-tinged Caribbean rhythms, flavored with trombone, as well as rawboned bottleneck guitar work and single-string guitar lines that bridge the distance between T-Bone Walker and seminal rockabilly.
Along the way, you will realize that there is something special going on here.
Theis, 32, lives in Aalborg, a city in northern Denmark, and recently made a full-time commitment to a music career. Theis recorded Narrow Line in two sessions this spring at Tomi Leino's studio in Finland. One session featured Theis in an acoustic setting with blues musician and producer Peter Nande on harp. The other session matched Theis with Jaska Prepula on upright bass and Mikko Peltola on drums and percussion. That session also featured, on selected tracks, second guitar from Leino and trombone from Jakob Munch Mortensen.
Among the acoustic tracks on Narrow Line is "Coco Blues" (also known as "Cocaine Blues"), a '60s folk standard most often associated with Rev. Gary Davis. "When I first heard 'Coco Blues,' it touched me deeply and changed my way of thinking about music," Theis recalls.
Another highlight of the acoustic work on the album is the lithe Theis original, "Baby Blue," which features lean, articulate vocal and bottleneck guitar lines working in unison.
Most blues fans will recognize "You Got To Take Sick And Die" from the Muddy Waters' 1941-42 field recordings, which were later released as Down On Stovall's Plantation. Theis' version, however, was inspired by a recording by the late Boyd Rivers (1934-1993), an impassioned gospel singer from Mississippi who, like Muddy, initially was recorded by Alan Lomax.
The band tracks further reveal the range of Theis' varied talents. The title track, a Theis original, is a melancholic, gospel-inspired march that exudes blues in every measured step, but with none of the archetypal trimmings. Theis' cover of Tom Waits' barfly saga, "Fumblin' With The Blues," complete with trombone, evokes a Depression-era tone of desperation. Again, Theis has tapped into deep American blues roots but has eschewed clichés.
The Nande-penned "The Devil's Too Strong" is a one-chord vamp on the universal theme of human weakness. It features a gravelly, otherworldly Nande harp part (achieved with a low-pitched harp and a glass), with weighty, unison guitar/vocal lines from Theis that recall the style of Blind Willie Johnson, among others.
Narrow Line has its lighter moments as well. The band tracks include the strongly syncopated "Creepy Woman" – penned jointly by Theis and Nande and featuring a tasty Leino guitar break – and the (literally) upbeat Nande original, "Let's Jam Up." The latter features a carefree slide guitar solo from Leino. Each of these tracks quite simply dares you to sit still… reminders that rhythm is indeed a universal language, and that – hardships notwithstanding – one imperative of living with the blues is to keep moving, and to enjoy oneself, regardless.
Jesper Theis – Vocals and guitar
Peter Nande – Harmonica and percussion
Jakob Munch Mortensen – Trombone
Tomi Leino – Guitar
Jaska Prepula – Upright bass
Mikko Peltola – Drums and percussion
Devil And The Deep Blue Sea

00:00

Creepy Woman

00:00

Depot Blues

00:00

Narrow Line

00:00

Baby Blue

00:00

Coco Blues

00:00

Let's Jam Up

00:00

The Devil's Too Strong

00:00

Fumblin' With The Blues

00:00

You Got to Take Sick and Die

00:00

Lyin' Cheatin' Mama

00:00

Bread And Butter

00:00