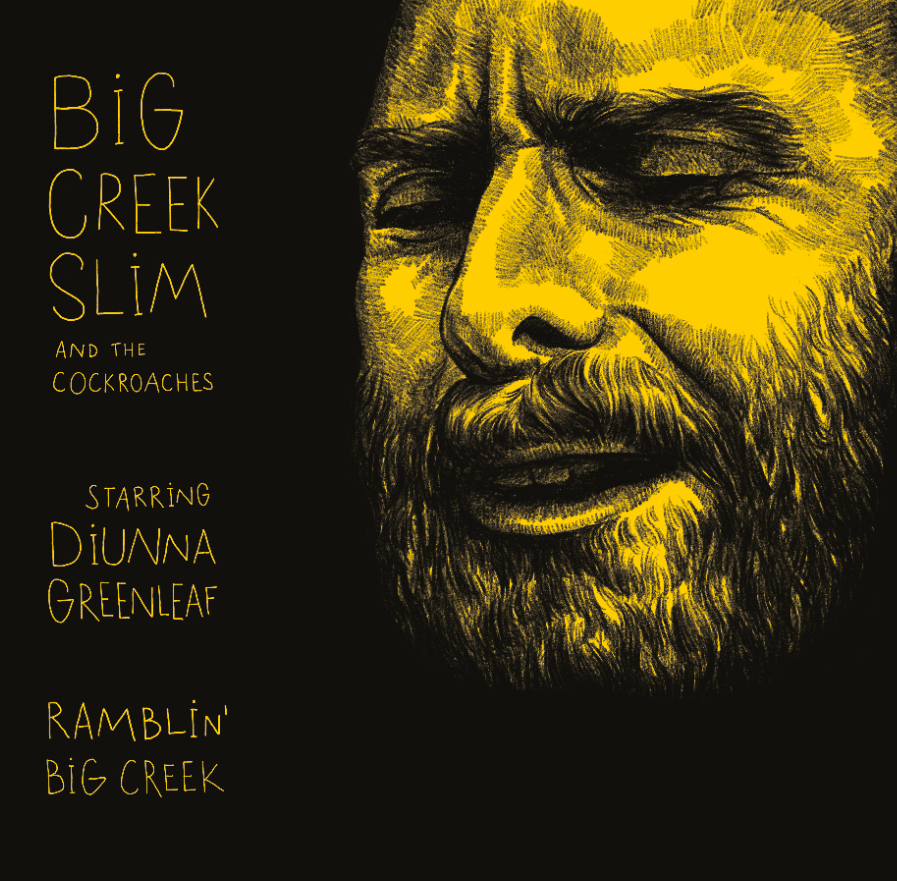 Ramblin'
Big Creek
Big Creek Slim
Ramblin' Big Creek
Straight Shooter – SHOT 029
Ramblin' Big Creek was recorded live over three days in a studio in the West Side of Arhus. It involved 11 musicians (including a three-piece horn section), one engineer, one microphone and no overdubs.
Big Creek Slim produced the album, with a couple of specific objectives: (1) to record only original material on the album and (2) for the recording to have one cohesive sound throughout.
Big Creek targeted what he calls a "perfectly unperfect" sound on Ramblin', one that would capture the raw spontaneity of country blues and early urban blues recordings, as found on such labels as Sun, Chess and Excello.
Big Creek sang and played guitar, harmonica and piano on the album, which moves adeptly through blues, soul and roots rock 'n' roll.
"I sang through a little amplifier in the middle of the small room, and put the musicians around it the way it worked best," Big Creek explains. "The horns were behind me in the back of the room. This is how the whole thing was recorded."
The band on the sessions included Big Creek's brother Morten Rune on guitar.
"We have played together since we were children," Big Creek says of his brother. "His personal style is more soul and folk ballads, but he knows his blues, too."
Vocalist Diunna Greenleaf is featured on the album's final two tracks, "Tear Me Down Again" and "Big Fine Mama."
"Diunna reminds me of Koko Taylor, Big Mama Thornton and Sister Rosetta Tharpe at the same time," Big Creek says. "The way she sang 'Big Fine Mama' gives me cold chills every time I hear it… She is the queen to me, and I truly appreciate our friendship."
Big Creek hits his mark with this recording. Ramblin' Big Creek would sound right at home next to early/mid-'50s tracks by Howlin' Wolf or Muddy Waters.
"It was a great experience to record this way, playing my own stuff, all in the school of the old masters," Big Creek says. And, because of the "one sound" approach, he says, the recording "maintains a true identity. I love this album!"
Big Creek Slim – Vocal/guitar/piano/harmonica
Diunna Greenleaf – Vocal
Morten Rune – Guitar
Jonas Kardyb Nicolaisen – Drums
Hans Jørgen"Hanse" Jensen – Saxophone
Per Vindum- Trumpet
Erling Mathisen – Bariton Saxofon
Amanda Krogh Nielsen – Percussion
Henrik Poulsen .- Bass
Christian Petersen – Bass
Mathias Rindum – Drums
Ramblin' Big Creek

00:00

How Unlucky

00:00

Sorrow And Consolation

00:00

Sick And Tired

00:00

Put You On Ice

00:00

If You Should Quit Me

00:00

I Just Don't Understand

00:00

Mean Ol' Sunrise

00:00

One More Mile

00:00

Rock 'N' Roll Mama

00:00

Tear Me Down Again

00:00

Big Fine Mama

00:00