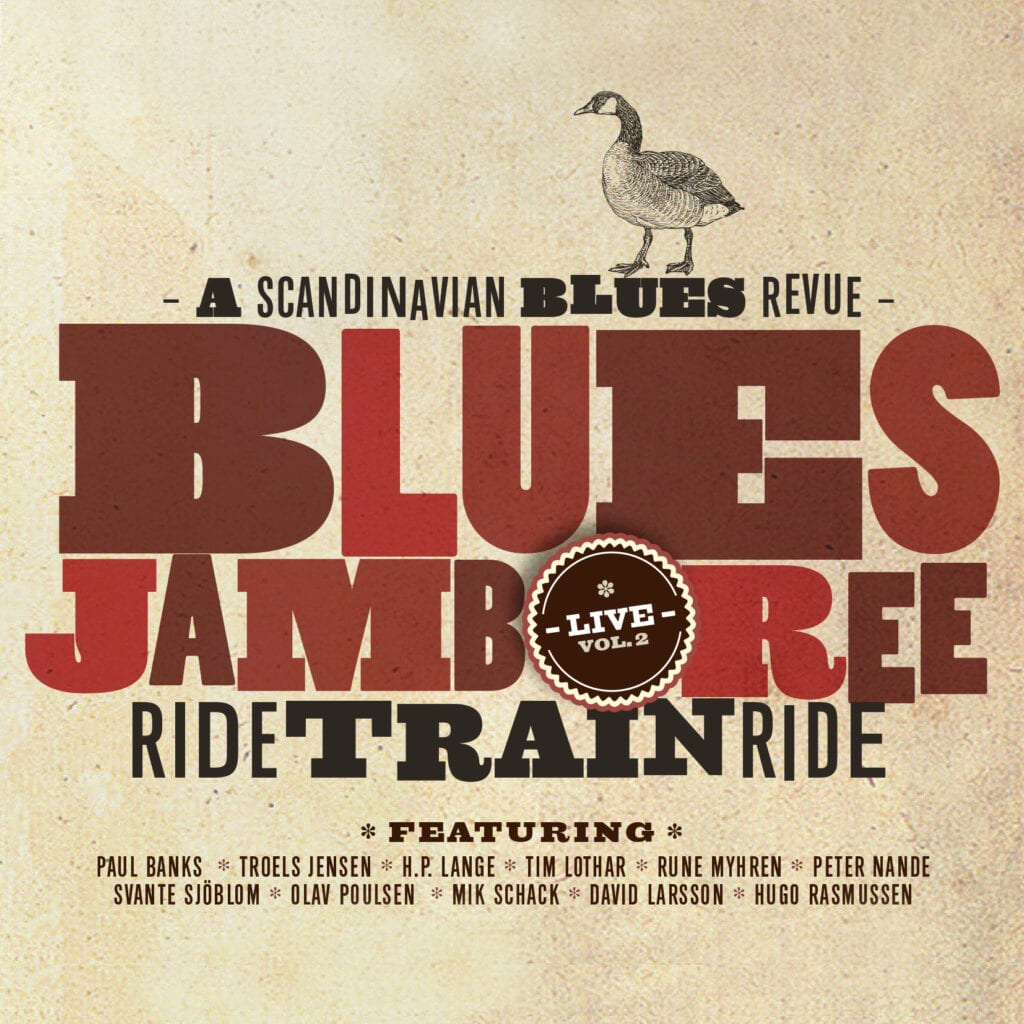 Ride Train Ride
Blues Jamboree
Ride Train Ride
Straight Shooter – SHOT 013
Volume 2 of Blues Jamboree's Scandinavian Blues Revue Live features more of those superb performances that made 'Grab A Root An' Growl' so good.
This set opens with the traditional 'Get Right Church' which melds the influences of Big Joe Williams, Sonny Terry and Brownie McGhee, with declamatory "call and response" vocals underpinned by fine mandolin and jaw harp. 'Cornbread, Peas And Black Molasses' again captures the spirit of Sonny and Brownie, moaned vocals echoed by percolating harp and rolling piano whilst Tim Lothar's title track is a spiritual train blues that fairly rattles along replete with fine mandolin and Nighthawk styled slide.
'I Need your Love So Bad' has a strong country soul feel – you will find yourself rocking along to Al Simmons' You ain't Too Old' with it's rollicking harp and growled "call and response" vocals – Hank Williams' 'Weary Blues from Waitin' personifies that lonesome feel fuelled by wistful piano, vocals, guitar and cajon – whilst Son house's 'Louise McGhee features Nighthawk slide, deep rolling piano and melancholy mandolin.
Add in a stunning renditions of 'You're Gonna Need somebody On your Bond' and 'Jesus Is On The Mainline' – a brooding version of Johnny Cash's 'Folsom Prison Blues' – and an anguished work-out of Skip James' Good Road Camp Blues' – and you have a set that is deserving of your support.
Get Right Church

00:00

Jack of Diamonds

00:00

Cornbread, Peas & Black Molasses

00:00

Ride Train Ride

00:00

I Need Your Love So Bad

00:00

You Ain't Too Old

00:00

Weary Blues From Waitin'

00:00

Louise McGee

00:00

Jesus Is On The Mainline

00:00

Folsom Prison

00:00

You Gonna Need Somebody On Your Bond

00:00

Good Road Camp Blues

00:00
Paul Banks (vocal, guitar, mandolin)
Troels Jensen (vocal, piano)
H. P. Lange (vocal, guitar)
Tim Lothar (vocal, guitar, percussion)
Rune Myren (vocal, Harmonica, Cajon, Percussion)
Peter Nande (vocal, harmonica, jug, jawharp, washtub bass, percussion)
Svante Sjöblom (vocal, guitar, mandolin)
Olav Poulsen (guitar)
Mik Schack (washboard)
David Larsson (cajon)
Hugo Rasmussen (bass)